Ya'akov Orland Archive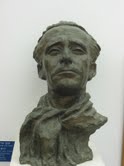 Project Information
Ya'akov Orland's literary legacy consists of eight collections of lyric and epic poetry, 14 plays, scores of songs that have become an inseparable part of Israel's cultural landscape, 46 translated plays mounted on stages around the country and dozens of poems for adults and children translated into Hebrew from other languages.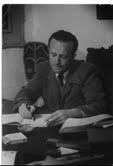 From 1998, Orland passed on to Dr. Tamar Wolf-Monson and Prof. Avidov Lipsker some 5,000 items, including manuscripts, photographs, correspondence, assorted papers and rare editions of his books, for the establishment of an archive documenting his literary and cultural output. The archive, founded under the auspices of the Baruch Kurzweil Institute for the Literature of the Jewish People at Bar Ilan University, also preserves posters, certificates and awards, sketches, paintings, and various art objects relevant to Orland's life. It is an archive of historic importance not only for Orland personally, but for Israeli literature and the literary annals of the country from the Third Aliyah through the establishment of the state and later years. It is one of Israel's richest collections of memorabilia in this sphere. Since the opening of the archive, copies have been made of all Orland documents housed in other archives throughout the country.
The Ya'akov Orland Archive, catalogued by Ms. Galit Halili, is directed by Dr. Tamar Wolf-Monson.
Last modified: 12/03/2012